Brand / Business Development
Today we are going to discuss about Brand / Business Development through Digital Marketing.
Negative Thoughts Regarding Digital Marketing
Almost all business owners want to grow their business and profit value from 4 digits to 8 digits. They are trying to find the answer of "What should to do and How to do" to achieve the above goal.
For this purpose, most of the business owners contact with marketing companies. These companies recommend to digitalize your physical business or offers their services inform of PPC, SEO, SMO, SEM etc.
Business owners spend huge amount on PPC, SEO, SMO, SEM and gets nice amount of Sales. But after some time they realize that if they stop spending money, the business will start moving down.
Sometimes, it also happens that a business achieve the first ranking in SERP (Search Engine Result Pages) against business keywords but not getting a nice ROI (Return of Investment). They feels that the business is thousand times depended of a marketer or the marketing tools like Google (SEO, PPC).
99.9% of businesses are stuck here and most of them don't know why they have stuck in this painful situation?
The answer is so simple, they have gotten some short term sales using digital tools instead of growing their Brand.
Brand Growth / Business Development
Now here a question arise that how we can grow our brand or business. And you know, the answer is really very simple.
Brand can only be develop or grow if the people trust on them.
Now another question arise that how to gain trust of people/user. Again, the answer is really very simple that
Trust can only be gain via providing right solution of their customer's problem.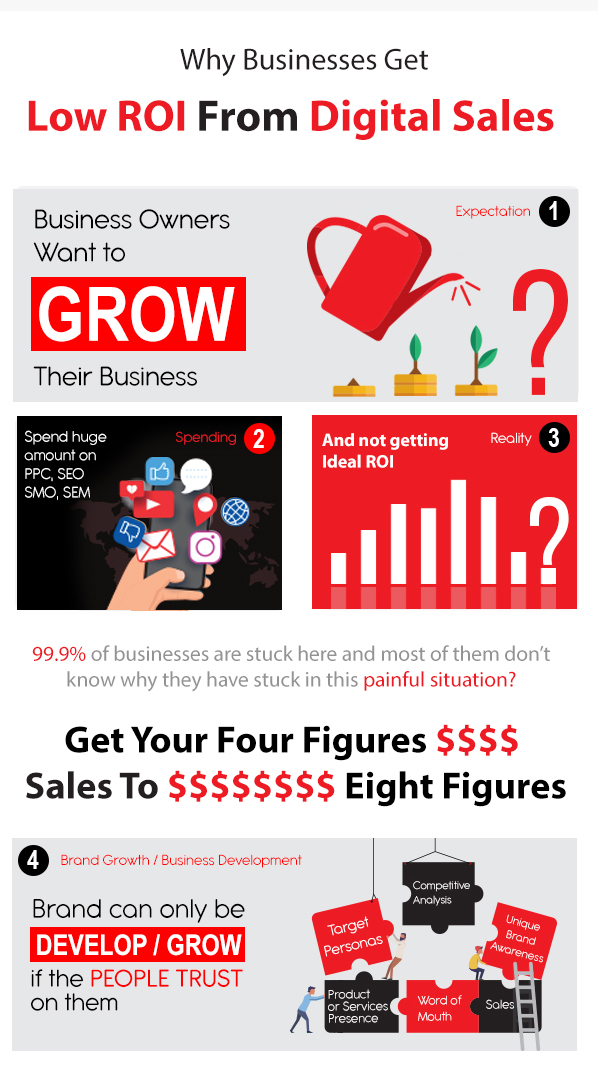 Would you like to take help by the Experts. Don't hesitate to Contact Us.
[contact-form-7 404 "Not Found"]